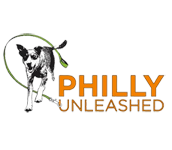 On Saturdays at 1 pm in the courtyard, dogs and their owners join a class from
Philly Unleashed.
Rover Rubicon is in session….this fun and fast paced obedience/agility hybrid class is the perfect next step for dog-owner teams who have completed puppy, basic, and beyond basic obedience or would like a fun challenge.  This class is akin to cross-training for dogs (Without all of the annoying human exercise!), and is set to a fun and upbeat soundtrack that will leave your dog physically and mentally exhausted.  Focus will be on sharpening precision obedience and agility skills through positive training and games.
It is exciting to see activities happening in the courtyard.  If you have  a four-legged friend in need of training check  out Philly Unleashed.  Join a class and tell them you are friend of Old First and you will be offered a discounted price.